The Imaging Source (TIS) is an industrial camera manufacturer based in Bremen, northern Germany. It's been in business for over 25 years and we consider ourselves a proud and active partner of The Imaging Source. We've been working with them for just about 15 years and in that time have got to know most of the key personal, including the family owners.
Like any business, I am sure TIS have had their ups and downs over the years. But it is pleasing to say that all we see is consistent upward movement across their operation. The product range is sufficiently differentiated from the rest of the pack to be able to stand alone as a well recognised portfolio of good, solid industrial imaging products. in their instantly recognisable blue livery.

Industrial Cameras from The Imaging Source
But creating a nice camera is not enough to be a differentiator. There are myriad numbers of companies around the world who build and sell camera products. There are a couple of areas where TIS is very strong and often compares well against competitor offerings. Leaving to one side the expectations of high build quality which translates to near zero returns (no serious user of industrial cameras would tolerate anything less in 2020), it is the accompanying software that can make all the difference, followed very closely by quality support by knowledgeable and willing engineers, such as the inimitable Stefan Geissler who has been a pillar in the TIS support establishment over the years.
The software that accompanies an industrial camera can make all the difference. No matter how many features the camera might have on board, if the accompanying drivers and user software are lacking, the hidden benefits of a particular camera, whether it be superior frame rate or the best data transmission performance, can make all the difference between choosing one camera brand over another. We're happy to say that in most cases, TIS cameras are often the camera of choice amongst our well educated and informed engineering customers.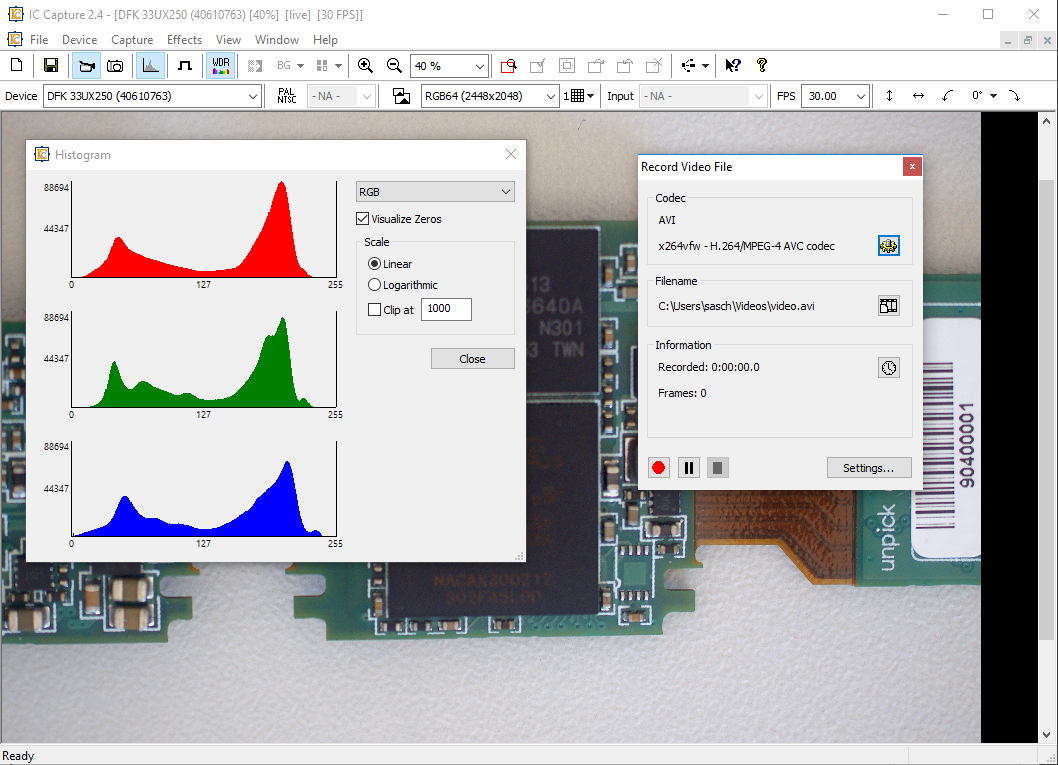 IC Capture from The Imaging Source
There are a whole suite of software downloads available to users of cameras from The Imaging Source. After the critical camera drivers have been installed, the most useful of all is IC Capture which is the end user software that can be employed to demonstrate all camera functionality and is so feature laden that is often used as the customer's primary image acquisition software. This download is free of charge, as is the full software development kit that is available from the downloads page.
An article on The Imaging Source cannot go without a special mention given to the innovations that over the years have set TIS apart. One in particular is their range of autofocus and zoom cameras with a combination of built-in optics and external add-on lenses. A special case in point is the range of digital zoom cameras that have been a staple of the TIS workhorse camera range for many years. There are a number of application areas for these products, the most common one is probably integration into traffic management products.

Zoom cameras from The Imaging Source
The Imaging Source is also renowned for their image converters. These were originally designed to convert the composite output from an analogue camera into a digital format and in the first decade of the century, this was usually a Firewire interface on the PC side as that was the most capable imaging interface technology at the time. Latterly, these devices offer a range of format conversions from video to USB 2, SDI to USB 3 and even USB to HDMI and HDMI to USB.

Video Converters and Grabbers
Recently Scorpion Vision has had the good fortune to supply a global manufacturer with a multi camera system, monitoring a very long production line. With such a large capital expenditure the customer trialled a number of camera products before a decision was made on what brand to select (which we provided on a loan basis).
It was The Imaging Source cameras that offered the widest range of image sensors and indeed it was a TIS camera that was ultimately chosen for the task, with image acquisition and processing using Scorpion Vision Software for the automation solution.
If you have an application that you think might require a camera from The Imaging Source, please ask us for a sample unit. We have a selection of cameras in stock ready for evaluation. See a full list on this web page.